First Pregnancy and breast cancer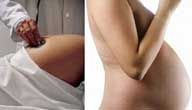 According to new research more and more evidence is there which points to the fact that child bearing factors generally in first pregnancy could create risk for women for breast cancer. Very premature delivery increases the risk by 2 fold for breast cancer.
The above was discussed at International journal of cancer. There is also a risk of brease cancer when women have twins or triplets during their first pregnancy. This was even more stronger in women when the gave delivery to twins or triplets after the age of 30.